CIMA together with eProseed wins the 2016 Oracle Cloud Platform Innovation Awards for Cloud Integration.
The Chartered Institute of Management Accountants (CIMA) has received, together with eProseed, the 2016 Oracle Cloud Platform Innovation Award for Cloud Integration as a recognition for their pioneering hybrid cloud integration project, which is also the 1st SOA Cloud Service system to go live in EMEA.
The accolade was presented to CIMA during the Oracle Excellence Awards ceremony at Oracle's flagship OpenWorld conference in San Francisco.
"The Oracle Innovation Award we received together with eProseed is a recognition of our joint effort to improve CIMA's delivery of high quality professional qualification services around the world by modernizing our IT platforms using Oracle Cloud. eProseed's expertise, responsiveness and close collaboration with Oracle staff were fundamental to delivering this project"
says Mie Verstraelen, CIMA's Director of Global Technology Services, adding "we look forward to continuing our close relationship with eProseed for the next stages of our cloud journey."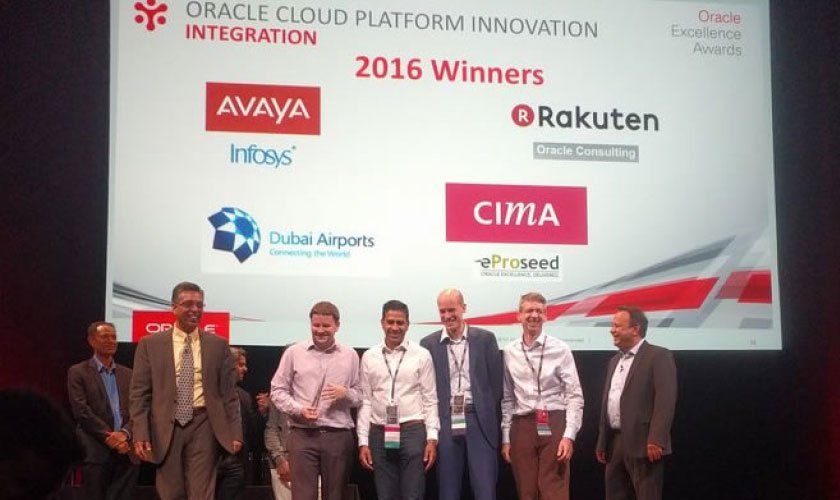 CIMA, the world's largest professional group providing training and qualification in the field of management accountancy decided to modernize their IT infrastructure in order to achieve greater IT agility, enhance their customer service and reduce IT costs.
In order to achieve these strategic objectives, CIMA has decided to migrate their legacy on-premises ERP system to Oracle Financials Cloud. To integrate this with their other systems, such as Siebel CRM, their customer portal for training registration, and payment gateways such as Paypal, CIMA chose Oracle SOA Cloud Service.
CIMA recognized that, while SOA Cloud Service offers unprecedented speed to deploy a production-grade platform, the level of integration they required was non-trivial and would need a highly experienced partner to help them get into production at "cloud speed" and with the high levels of robustness that their business expected.
As part of this project, eProseed has provided technical advisory and fully managed the integration of the SOA Cloud Services between CIMA's on-premises and cloud-based systems.

Moreover, the provisioning of the SOA cloud service instances was performed through the use the eProseed Accelerator for Oracle Cloud, a solution developed by eProseed which provides multi-instance provisioning, best practice configuration, and sets up vital customer-specific SSL security – all automated for speed of deployment, and consistency between live and test environments.
Since going live with Oracle Financials Cloud and SOA Cloud Service CIMA has already benefitted from significant reductions in manual interventions for order management, leading to a saving of 50% of the average order completion time. The Oracle SOA Cloud Services solution also enables enhanced monitoring and tracking which ensure better visibility of transactions, such as an invoice payment process, to both CIMA staff and its members.
All of the above contributed to the recognition Oracle has shown with the 2016 Oracle Cloud Platform Innovation Award for Cloud Integration and eProseed is proud to have worked with CIMA on these first successful steps of its journey to cloud.