Installation and Oracle Database Creation in Silent Mode
Sometimes when installing an Oracle database we found that the graphical interface was not enabled. Fortunately it is not mandatory to use GUI (Graphical User Interface) to perform the installation.
To unpack the binary Oracle Database, in response directory, you will find the response files that will help during installation, database creation and listener in silent mode. Thus, these files are:
netca.rsp – configure SQL net services
db_install.rsp – Install and optionally create a database
dbca.rsp – create a database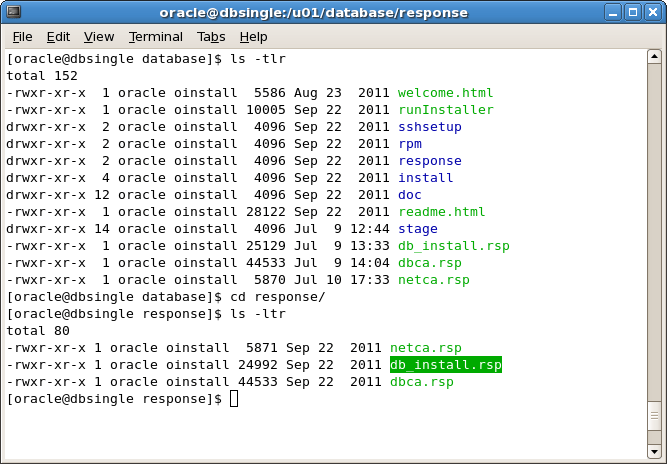 The files already have default values in their parameters. Just like when using GUI, some fields are already filled. Thus, basically the parameters you need to set for an installation without database creation are:
  oracle.install.option
 ORACLE_HOSTNAME
 UNIX_GROUP_NAME
 INVENTORY_LOCATION
 ORACLE_HOME
 ORACLE_BASE
 oracle.install.db.InstallEdition
 oracle.install.db.DBA_GROUP
 oracle.install.db.OPER_GROUP
 DECLINE_SECURITY_UPDATES
In the file you have any instructions on how to fill each parameter and may even have set up the database.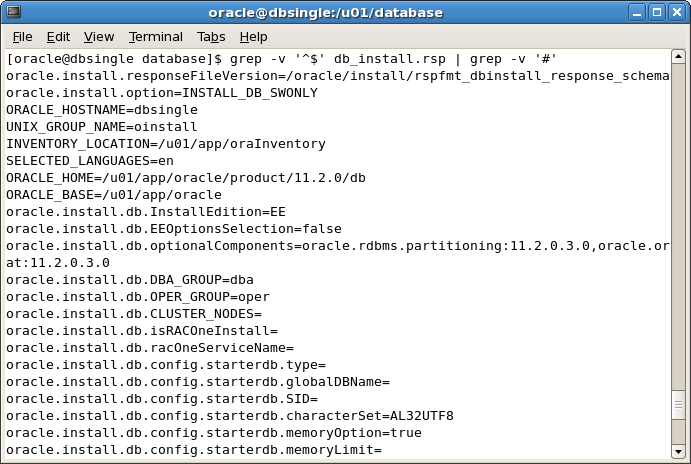 Once edited the response file just run the runInstaller in silent mode passing as parameter the path where is located your response file:
  ./runInstaller -silent -responseFile /u01/database/db_install.rsp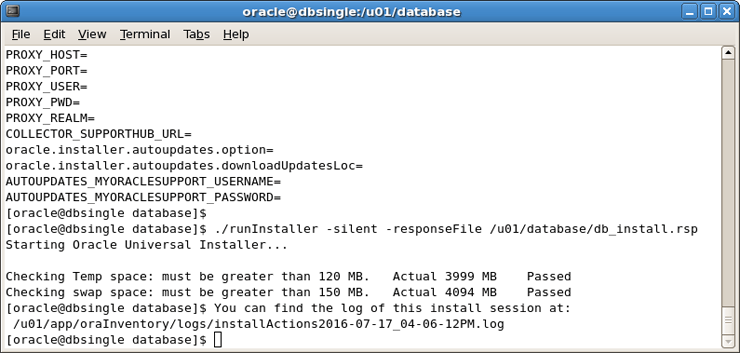 After the prompt is released, you should monitor the implementation by informed log or optionally use the -showProgress parameter that will display the progress on the screen.
When términoserá displayed the success message and then asked to script execution called root.sh.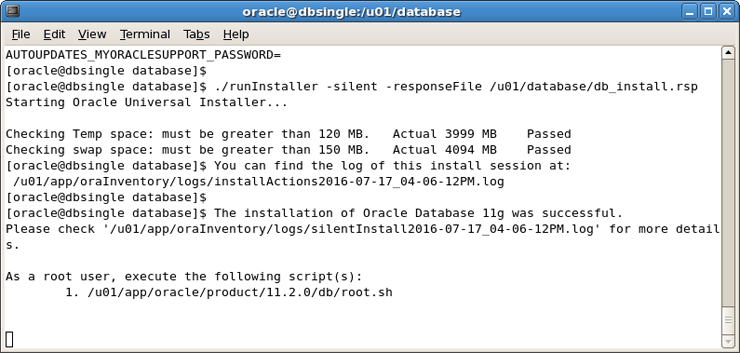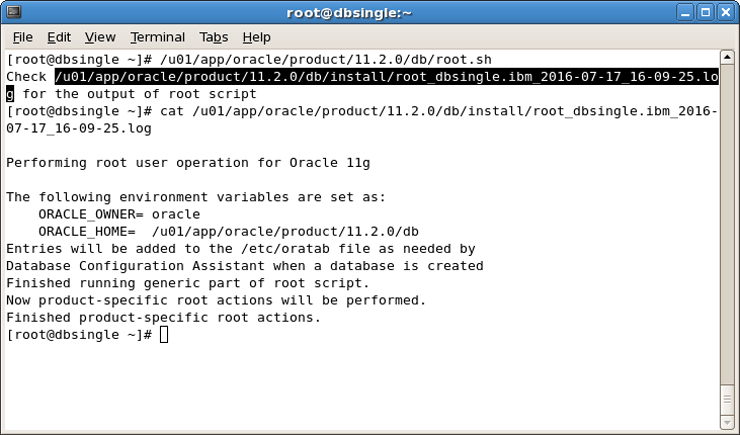 Once the software installed, you can create the database using the dbca command line.
 

 dbca -silent -createDatabase -templateName General_Purpose.dbc \




 -gdbname oemdb -sid oemdb -responseFile NO_VALUE -characterSet AL32UTF8 \




 -memoryPercentage 30 -emConfiguration NONE -sampleSchema true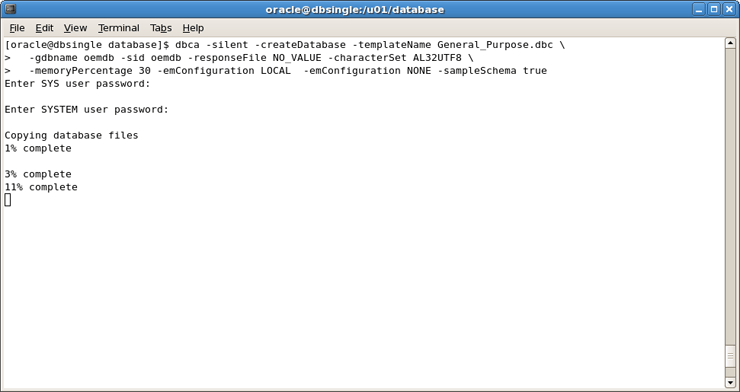 As can be seen, there was no response file used in this step, since the dbca ends up being much more intuitive. However, you can check the dbca parameters using the – help and if desired, can also use the response file at this stage.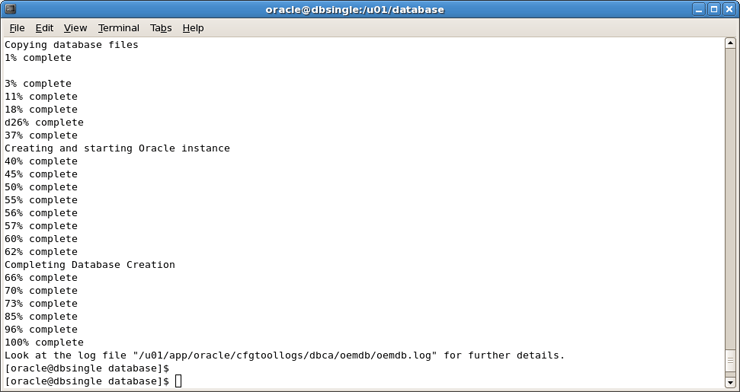 The last step is to configure the Listener. For this, you must edit the response file and remove the comment the following parameter:
 

 SHOW_GUI = false
After this, simply run the netca utility in silent mode and will create the Listener and standard SQLNET.
 

 netca -silent -responseFile /u01/database/netca.rsp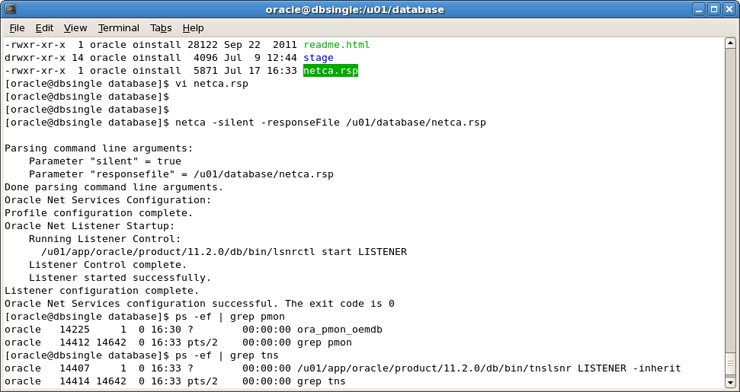 If the act need to change any settings, the DBA can set the listener.ora and sqlnet.ora files directly in your default directory $ ORACLE_HOME / network / admin or adjust the response file before execution, at the discretion of the DBA.
CONCLUSION:
Installation in silent mode can help the DBA in various situations. For example, in situations such as when the GUI is not enabled, or the operation is being done remotely, or the graphical interface is so slow that it makes it impossible to continue the installation or simply to avoid a few clicks. It is important to remember that even during the first installation using the silent mode can take longer than using the GUI, as a matter of familiarity. However, once I acquired the habit and having some response files created, it becomes very convenient and fast.
REFERENCE:
[1] https://docs.oracle.com/cd/E11882_01/install.112/e47689/inst_task.htm#LADBI1257
[2] https://docs.oracle.com/cd/E11882_01/server.112/e25494/create.htm#ADMIN12538
---
Thiago Sgobe is Brazilian, Bachelor of Computer Science, Database Administrator. Certified Professional OCP 11g and 12c and OCE RAC 11g with experience in versions 9i to 12c, having worked in various national and international clients. It is currently Advisory Oracle Database IBM Global Service Delivery Centre Poland.
Bruno Reis da Silva is Brazilian, Scientist Computer, Database Administrator Oracle / MySQL for over five years and professional certificate in database administration. Specialist administration and database infrastructure with experience in the implementation and management of database environments with Data Warehouse, Business Intelligence, database security, performance tuning, and high availability. He has managed the databases of major Brazilian and international companies. It also shares information on your blog techdatabasket.com.
Carlos Magno de Andrade Junior, now working as Database Architect eProseed in Europe, with over 15 years of experience in Oracle database, having worked in companies like Oracle Corporation, IBM, HSBC, among others. It also shares information on your blog ezdba.wordpress.com.
This article was reviewed by the Oracle product team and is in accordance with the standards and practices for the use of Oracle products.