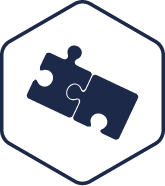 End-to-End Solutions
Changing business needs call for new business applications. To avoid runaway project costs it is of utmost importance that the consultants you choose have the right technical expertise as well as industry sector experience to fully understand your needs and constraints. This is where eProseed really makes a difference by providing exactly the right experts and project managers for your business that not only have the required business and IT skills but also the relevant sector experience.
In the modern technology paradigms where "information is power"
The need for integration of various systems handling information in an enterprise is paramount. Systems participating in such integration may have a variety of interfaces and protocols. Integration solutions may demand a range of operational capabilities.
eProseed can use any number and combination of products from Oracle Stack
eProseed uses that aptitude for building business applications. In designing the technology platform and the solution architectures, eProseed pays special attention to the flexibility and agility of the final solution so that change management and enhancements become simpler.
eProseed focuses on end-to-end delivery of tailor-made business applications that are of:
high-quality
reliability
perfectly aligned to your organization's needs
delivered on time
maintained to the highest standards.