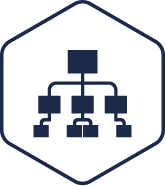 Enterprise Architecture Management (EAM) has become an essential tool of the modern decision maker.
Just as architecture provides a blueprint for constructing a building, Enterprise Architecture provides a blueprint and roadmap for aligning business strategy with IT. Enterprise Architecture Management is a well-defined practice for conducting enterprise analysis, design, planning, and implementation, using a holistic approach at all times, for the successful development and execution of strategy. Enterprise architecture applies architecture principles and practices to guide organizations through the business, information, process, and technology changes necessary to execute their strategies.
eProseed Enterprise Architecture practice combines different methodology and a granular approach to deliver customer with:
Business Architecture: Creating the business case for the IT transformation
Application Architecture: Defining the scope, strategy, standards for application components
Technology Architecture: Describing and leveraging the underlying infrastructure
Information Architecture: Describing the flows to bring the right information to the right people at the right time
Enterprise Architecture: Providing the structure and processes for implementing an organization's businesses strategy and objectives through an Enterprise Architecture.