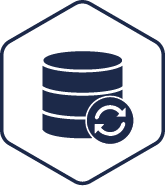 Database & Data Management
Migration, Upgrade and Optimization Services for Oracle Database
eProseed reduces the cost and risk of database upgrades and migrations, optimizes performance of your environment, and enables consolidation onto eProseed Cloud and Oracle Engineered Systems
Migration and Implementation Services
eProseed uses the power of decades of experience and highly certified team to get you to the latest Oracle Database products with the least cost and risk. eProseed accelerates migrations and technology upgrades through dedicated and certified experts, standardized methodology and automation. Whether you are upgrading, moving from other databases, or migrating to Oracle Engineered Systems, eProseed will help you get there quickly.
Expert Services and Concierge Services
eProseed gives you the flexibility to select specific services at the right time in your project lifecycle. eProseed delivers experts deliver assessment, configuration, and optimization services based on a standard and proven approach. Furthermore you can benefit from this expertise 24×7 with our on-demand Concierge Service which provides you with expert third-line support.
Unique advantages of eProseed Services:
Unique expertise to maximize the value and optimize performance of your Oracle environment.
Dedicated and skilled support services.
Best practices for consolidation or transformation to Oracle platform.
A low risk and fast track for database related project.
Data Management Services and Architecture
This tailored service leverage's the deep expertise of our staff to deploy data management strategy that are optimized for your unique environment. Successful data management requires much more than investment in technology, it also involves putting the processes and people in place to manage all aspects of the data lifecycle.
Effective data management enables insight to support better decision making, leading to compliance with government regulations; reduced risks inherent with improved data quality; improved productivity and operational efficiency; improvements in customer satisfaction; and increased enterprise agility, thus achieving high performance.
eProseed provides a structured and holistic approach to support customers in managing their data:
Data Governance: The human organization to manage and oversee data.
Data Structure: The definition of data.
Data Architecture: The storage, movement and retrieval of data.
Master Data Management: The maintenance of consistent core data.
Data Quality: The accuracy, completeness and legal compliance of data.
Data Security: The protection of data and the authorization to use it.